On this page are projects completed by my self and friends and Customers.

I sincerely hope you find some inspiration for your own projects.
As a fan of the original Dutch Dolls House created by wealthy Dutch Ladies using Cabinets, I was very impressed with this project by an American couple, Shelby and Kathy.

This is a wee message from Shelby and Kathy:

The idea to use the cabinet rather than an actual dollhouse was determined by its location in the living room of our home, because the china cabinet would blend into the furnishings in an optimum fashion while allowing maximum viewing of the miniatures themselves. The china cabinet miniature display features an imagined modern girl's boarding school as located in a former estate mansion.
We have always been hobbyists in replica models, dolls and similar craftwork although most of it involves 1/6 Barbie scale. This our first serious venture into 1/12 scale.

We are very thankful to Val for giving us expert advice and helping to fill the headmistress office on the base (walnut) level, the science lab chemist sets on the classroom shelf along with Ray Storey, and the collections cabinet in the trophy area of the dining hall'. Cheers, Shelby and Kathy.

This is a project by Laurent from France. Laurent has a website. Here is the lin
k:
http://miroudjim.wix.com/lorenzo-seigle
Laurent says:
I wanted use this attic room because it was never really exploited in miniature.
There are already 20 years I was one of the first to have made the famous Beacon Hill Greenleaf fabulous haunted house.
The idea came from my idea that the family had been on a shoot and I had several mounted animals and nowhere to put them. I also wanted to start to give personality to the head of my house and also wanted to give some idea of mysticism and madness to the owner of my dollhouse. I decided to creat a room of Curiosities. I have not yet fitted the lighting and I still have some patina to do but the spirit is there, and that's the most important thing.

Hello Val
I have attached pictures of my Perfume Shop. The boxes have mostly been made from kits which I bought from you some years back. I also have some of your perfume bottles. I think the whole thing is very pretty. I am now looking forward to making a hat shop.
Ann from the Renfrewshire Dollshouse Club, Scotland
"Miss Kitty's Couture Shop"

This is a wonderful Ladies Shop by Caroline of England.

Caroline says: " I have sent you a few photo's of my 12th Couture shop which is now finally coming together with some of the lovely items you have made for me and the also the ones from other Artists which I found on your website. The stunning Coat is by Eva Bauer.

Kitty is really pleased with the way it's looking now and I'm sure I'll be in touch soon to order some more ladies items soon as she now needs to do her window displays!! "

When I was a child I had a Doll House that spent hours and hours on. The House came from family and was a wonder. For reasons that I do not remember, I found myself devoid of it. Since then I yearned to have another House and dreamed of starting my own collection and to try to recover that House from my childhood that I lost. When I started work at the University, I earned a salary, so was able to start collecting Miniatures. This was over thirty years ago.
A relative of mine has a wonderful pharmacy in Granada and I wanted to reproduce that preciousness. Little by little I was adding items to the apothecary.
It is set in the 1960s. I want to clarify that often in Spain, the apothecary had a laboratory and an ophthalmology section.
I try with insistence that there are no anachronisms. That means that all parts and characters are of the era.
This is critical to me and my collection is governed by this rule.
In Val I've found a goldmine because her works are suited to my taste.
We should have hobbies in life that serve to distract the mind when life gets hard for us.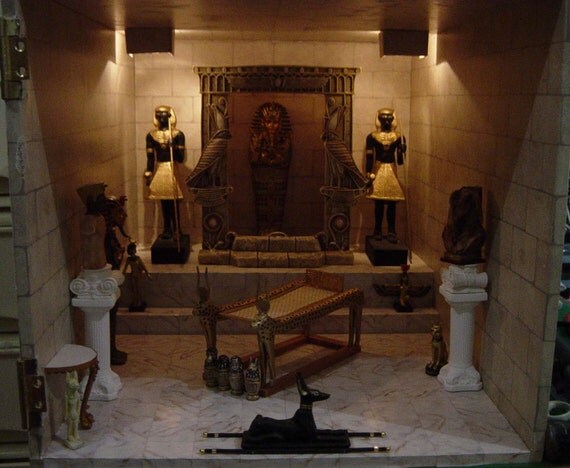 This is a project I have been hankering to do for some considerable time. I have a great love of history, and in particular Roman and ancient Egyptian cultures. I wanted an Egyptian museum room box, but I also wanted it to have a tomb-like feel. I think I have achieved that with the lighting. The first of my acquisitions were the doorway, crouching anubis and the incredible four canopic jars by Koni Coursien and Teresa Dudley of the USA. Next, I managed to win some vintage Terry Hanks artisan made pieces: The two black and gold tomb guardians, the torso and head of King Tutanhamun as a boy; and the Bust of Akhenaten (king Tut's father). The artisan maker of the Ritual Lion Bed is unknown. The sarcophagi are commercial. I hope to finish the room box soon.... it has a front hinged opening with a pillared egyptian doorway also by the incredibly talented Koni Coursien and Teresa Dudley. I have cmmissioned King Tuts throne and Canopic chest fromt the same ladies..... can't wait! I will shortly be adding some much coveted bronze pieces by Neil Carter and I will be making three books: The book of the Dead, the book of Life and the book of Gates.
I am very pleased with the overall feel of my room box and I hope this inspires you.
Val Harper.

I received the little cot this afternoon and it is GREAT !
I don't return it and keep it for my antique dollhouse/rooms.
Attached 3 pictures and it is already christmas and the cot is for a little baby.
I'll check every day your website and wish you a lot of work so that you can sell out
Sibil from The Netherlands

14/01/2012 A room box "Antique Shop" project by Margaret in Wales

Margaret says: "After taking early retirement, I was looking for something to keep me occupied over the winter and found a Tudor house kit with a shop on the ground floor. This was perfect as I love carved oak furniture but decided to move it forward to late Victorian to give the greatest possible scope, with a mix of carved oak furniture and more "modern" Victorian in the parlour. The house took around four months to build, and I enjoyed every minute (including gluing on 3000 roof tiles). I decided on an Antique shop as again, it gave me huge scope and I have tried to find unusual items (like Val's bird egg cabinet, Spartan Helmet and Microscope).

I am trying to see how many items I can cram inside without being over the top (currently around 150 but I lose count)."

12/11/2011 This is another really detailed Room Box "Museum" by Margaret in Wales.

A few words from Margaret:

"I wanted something different for a winter project and saw the birds egg cabinet on Val's website - inspiration struck and I thought of a Natural History Museum. The room box is loosely based on the Natural History Museum in Oxford as the Gothic style perfectly compliments the three front display cabinets (birds egg, fossils, and gemstones). The butterfly cabinet was the icing on the cake and really added to the look of the finished box."